Looking for something more exclusive? Private groups of 2, 3 or 4 passengers welcome!
Pick-up & Drop-off at your hotel
Professional and English speaking pilot
Champagne toast and snacks
Pictures from your Flight
Fill out the form below
We'll check our availability and get back shortly
We will confirm your booking and send all instructions
We are so happy we decided to book a flight with Balloon Adventures Prague! The staff is very professional, outgoing and helpful both when we where booking and during the... read more flight as well. The pickup was exactly on time.
The ride was amazing, what a great experience and we felt very safe the whole trip, the pilot, Andrew, answered all the questions we had and totally knew what he was doing ;) We would say that this is a must do in the Czech Republic

Fanny & Sara

Fanný G


7/16/2019
Hot-air ballooning belongs to the most peaceful and romantic activities one could ever experience. Once airborne you'll be amazed by the sillence and infinite space around you. The flight level ranges from the tree-tops all the way up to 5 000 feet above ground. Our flight area is famous for the Chateau Konopiste located just 40 minutes outside of Prague.
When and Where?
Our flights are scheduled daily. See our calendar above for availabilities.

The flight area is about 40 minutes outside Prague at Chateau Konopiste.

Timing of everyday's flights depends on the time of sunrise and sunset:

- Sunrise flights depart around 4:30 am
- Sunset flights depart around 6:00 pm .

Each flight takes around 1 hour, you will spend around 3-​4 hours with us (incl. transfers).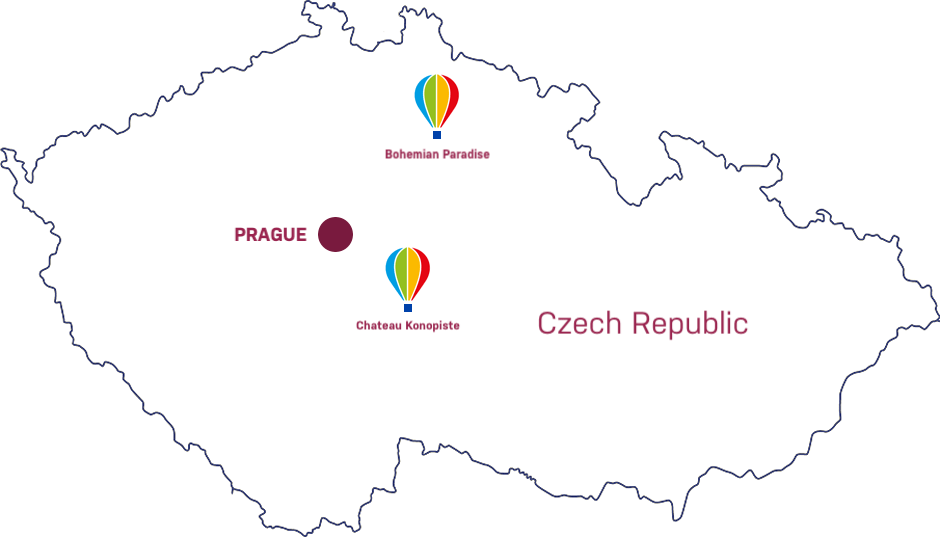 Clothing instructions
The temperature in the air is about the same as it is on the ground. It may get cooler before a sunrise flight or after we land at sunset flight.

You should wear: Solid shoes (no slippers or high-​heels please), long pants, light jacket or sweatshirt.

If you are sensible, consider wearing a hat/​cap/​scarf to protect yourself from the heat of the burners
Know before you book!
Ballooning is an outdoor activity. 

Each passenger must be in a good physical condition to participate. You must be able to climb in and out of the basket, or walk out of a field after landing. If you've had any recent surgeries or are concerned, feel free to consult with us.

There is no age limit. 

Children must be 100 cm tall (3,3 foot), and accompanied by an adult.

If there is anything unclear, if the availability is not sufficient, or if you have any other questions, contact us! We will move the universe to make things happen! 
Payment and Cancellation
Each booking is confirmed after a deposit payment is processed. The deposit is then deducted from your total once you fly. The total is paid at the launch site by card or in cash.

In case we cancel the flight and cannot have you re-scheduled to an alternative slot, we will refund your deposit in full amount. 

You can also cancel the booking up to 72 hours prior the flight and we will refund you in full amount.

For further details, please see any questions please see our FAQ's page or contact us.