Marriage Proposal Flights are operated daily, with sunrise or sunset. 
Each flight takes around 1 hour and includes a pick-up and drop-off service! Everything will be recorded and a flower us a must!
There are no other passengers on board, just you and your pilot. 
See the full activity timeline.
Our season: April 1 - October 31. Marriage proposal Flights and Private flights can be operated outside the season as well, if the conditions allow.
No other passengers on board
It will be only you and your pilot in the balloon. Hotel pickup is private too.
Shuttle from hotel/address in Prague
Spectacular 1 hour-long flight
Pictures from your flight
Champagne toast and Certificate
Passenger briefing and instructions
Free cancellation 72 hours ahead
There is no catch. We simply charge you only and once you fly.
Hot-air ballooning belongs to the most peaceful and romantic activities one could ever experience. Once airborne you'll be amazed by the sillence and infinite space around you. The flight level ranges from the tree-tops all the way up to 5 000 feet above ground. Our flight area is famous for the Chateau Konopiste, located just about 40 minutes outside of Prague.
Read more...
From almost 1 000 meters up, enjoy views of the most attractive part of the country, Central Bohemia, all in the magical light of sunset or sunrise. Explore Chateau Konopiste, the last residence of Archduke Franz Ferdinand of Austria, from a birds' perspective, spot wild animals and wave at locals below.

The service starts with a pick-up at your hotel or close by. The exact take off location depends on current weather conditions but they are all spectacular.

At the launch site, you will be welcome by the pilot. He will provide instructions and carry out the inflation. You are welcome to take pictures or help if interested.

During the flight, your pilot will guide you through the landscapes and answer all the questions you may have and take as many pictures of you as possible. In accordance with the history, every balloon flight must be celebrated with champagne and light refreshment. After a toast, you will receive the aeronaut's certificate.

After the flight, you will be transported back to your hotel.
When and where?
Our flights are scheduled with sunrise and sunset during the weekends, and with sunset all week long whenever the weather allows, between April 30 - October 31.
Timing of everyday's flights depend on the time of sunrise and sunset. Generally, the hotel departures are:
- Sunrise flights depart between 4:30 - 7:00 am
- Sunset flights depart between 4:00 - 6:00 pm
Time of each flight is indicated in the
booking calendar
. Seasonal overview can be found on our
instructions page
.
Each flight takes around 1 hour, you will spend around 3-4 hours with us (incl. transfers).
Clothing instructions
The temperature in the air is about the same as it is on the ground. It may get cooler before a sunrise flight or after we land at sunset flight.

You should wear: Solid shoes (no slippers or high-​heels please), long pants, light jacket or sweatshirt.

If you are sensible, consider wearing a hat/​cap/​scarf to protect yourself from the heat of the burners.
Know before you book!
Ballooning is an outdoor activity.
Each passenger must be in a good physical condition to participate. You must be able to climb in and out of the basket, or walk out of a field after landing. If you've had any recent surgeries or are concerned, feel free to
consult with us
.
There is no age limit.
Children must be 100 cm tall (3,3 foot), and accompanied by an adult.
If there is anything unclear, if the availability is not sufficient, or if you have any other questions,
contact us
! We will move the universe to make things happen!
Payment & Cancellation
Each booking is confirmed after a deposit payment is processed. The deposit is then deducted from your total once you fly. The total is paid at the launch site by card or in cash.
In case we cancel the flight and cannot have you re-scheduled to an alternative slot, we will refund your deposit in full amount.
You can also cancel the booking up to 72 hours prior the flight and we will refund you in full amount.
For further details, please see our
FAQ's page
or
contact us
.
Fill out the form below
We'll check our availability and get back shortly
We will confirm your booking and send all instructions
You can always reach us on the contacts here: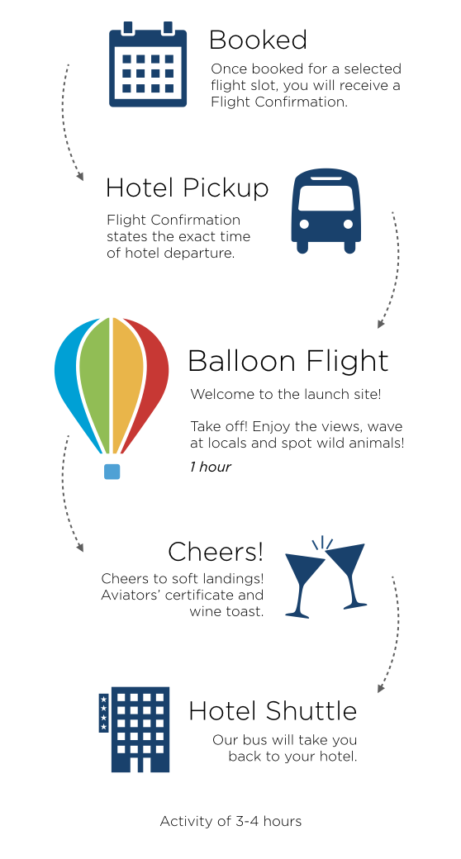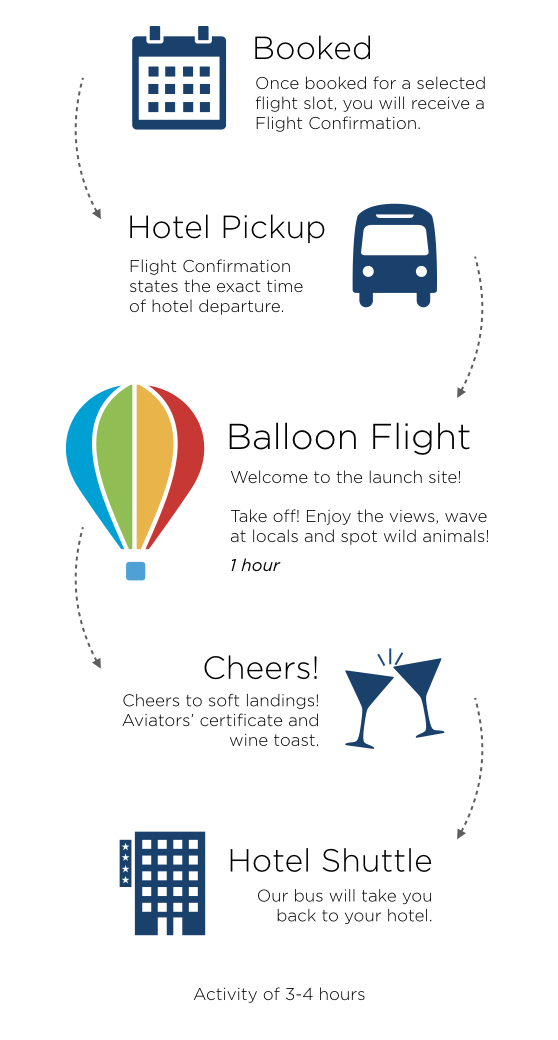 1

Booking

Booking is automated via our

booking calendar

. If you have questions before booking,

e-mail us

.

Select your flight slot, provide basic information and pay a refundable deposit (you can cancel up to 3 days prior to your flight, also refundable in case of bad weather). You will get a booking confirmation with further instructions.

Our flights are scheduled between April 30 - October 31.

2

Flight status update

Your flight status is updated according to this schedule:
• 14:00 o'clock on the day of your sunset flight, or
• 22:00 o'clock on the day before your sunrise flight.

With the flight status update, you will also receive the exact pickup time at your hotel. This is dependant on pickups of our other passengers and on the final take-off time, which is decided by your pilot during his flight planning.

3

Hotel pickup and transfer to the launch site

At the time stated in your Flight status update, our car will await you in front of your hotel / accommodation. It is labeled with a "Balloon Adventures Prague Balloon Shuttle" sign. Greet the driver, hop in and rest for about 40-60 minutes, until you reach our balloon launch site.

4

Welcome to the launch site!

Your pilot and his team are getting your balloon ready. Did you know it only takes around 20 minutes to get the entire balloon ready to fly?!

At this time, your pilot gives you instructions for boarding, the flight itself, and landing. He also checks on your current overall condition to make sure everyone is ready for the flight. He has the responsibility over you - he has the last word! Make sure to read our pre-flight instructions so that you are ready!

5

BALLOON FLIGHT

After the briefing by your pilot, our team starts the balloon inflation process. It takes around 10 minutes to stand the balloon up. You are welcome to watch, take pictures and enjoy thee scenery.

Once the balloons are up, you will be invited to jump on board.

In the sky we go! The pilot ignites the burners and lifts the balloon off the ground. Hot-air ballooning belongs to the most peaceful and romantic activities one could ever experience. Once airborne you'll be amazed by the silence and infinite space around you. The flight level ranges from the tree-tops all the way up to 5 000 feet above ground. Spot wild animals, wave at locals and take millions of pictures!

6

Landing

After about 1 hour the pilot searches for the best place to land. You will be instructed to get into a "landing position" and to await further instructions.

The landing is usually soft as if you landed into a blanket. However, it also very much depends on the wind speed. If the wind is stronger, you might experience a little bump, or in rare cases, a short drag-landing. All of the landings are safe, the more wind we have the more fun our passengers actually have at the landing. So no worries!

7

Champagne toast & Aviators' certificates

Once landed, your pilot will pull out a bottle of wine, glasses and aviators' certificates. He is also going to tell you a bit about the history of ballooning and why we do toast. You are then welcome to take more pics, watch our team pack the balloon and get ready for the way back.

8

Transfer back to Prague

Time to go. Our drivers will take you back to your hotel, in the opposite order they picked everybody up.

9

Pictures and memories

Balloon is spectacular! We are aware of that and so are our pilots. During the flight your pilot takes a few pictures and lets you use the camera to take some for, and of, yourself. He will then download them and send them out to the passengers.

10

Thank you for flying with us!